Pictures are among the most creative and beautiful options for wall décor. Photos, in particular, give your own four walls a personal touch. The design options with photos and other images are diverse to the individual furnishing style and personal taste.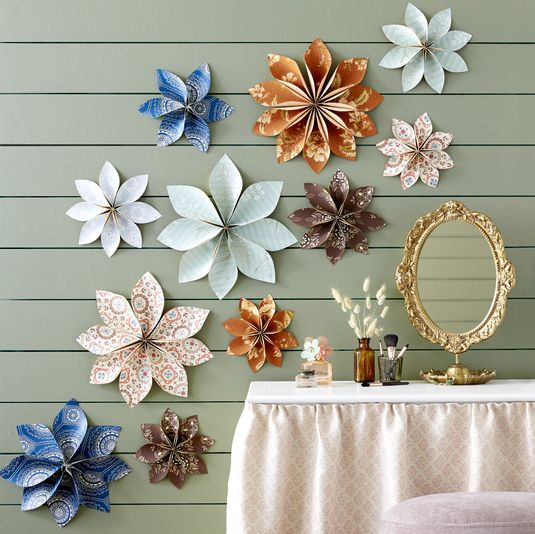 It doesn't always have to be the classic picture frame that matches the rest of the furnishings in terms of material and color. Pictures as decorative elements offer a much broader spectrum for creative design ideas.
Here you can get to know completely new facets of wall design with pictures and you can experience that pictures speak their very own language.
Imagery: images and sayings in combination for wall décor
If you can't conjure up your favorite photos big enough for Wall décor, you might find the right decorative element in photo wallpaper. These oversized wall coverings bring images in razor-sharp quality onto a large wall surface. Photo wallpapers cover the whole range of picture possibilities from the idyllic nature picture over a dazzling skyline to exotic animals and plants.
Photo wallpapers made from your own photos are a special highlight. This is how you can keep the most beautiful memories of your dream vacation, wedding or other very special moment alive for wall décor.
Image quality and resolution
In order for your own photos to come into their own on a photo wallpaper, the image quality has to be right, and that means the highest possible resolution.
If photo wallpaper is to cover a wall measuring 4 x 2.5 meters, the original image for printing should have a resolution of at least 4,000 x 3,000 pixels proves better for Wall décor.
How to use wallpapers for wall décor?
In the case of photo wallpaper, it is particularly important to smooth the surface piece by piece when applying, so that the overall look is flawless.
Custom Shapes: The individual photo wall that grows with you
The so-called Custom Shapes in wand are a creative and very changeable decorative element. The tiles are a great way to make your own memories for chic decoration.
A picture comes into several tiles. The wall using a simple magnet system for wall décor is a good option. The basic shape of the picture tiles is square, circular or hexagon, as desired. Thanks to the magnet system, the pictures are easy to arrange at any time with just a few simple steps, which always creates a different look.
Is a large picture can be split?
It is also possible to split a large picture into several picture tiles and then put them back together on the wall. This creates a very individual look. Up to 73 individual tiles can come together in different templates for the large mural.
Custom shapes in a square and a hexagon are available for this. Each individual tile is 18 x 18 cm, the hexagon tiles have a size of 18 x 21 cm. The magnetic suspension is suitable for wall décor, including rough plaster and various types of wallpaper.
A creative combination for Wall décor: wall decals and pictures
Wall tattoos are available in innumerable variations. For years they have been bringing a breath of fresh air to creative wall design. Nature motifs, the silhouette of famous skylines, symbols and patterns or entire imagery are available for individual design.
A real eye-catcher is a combination of a wall sticker and your own pictures. Similarly, a tree motif, for example, is particularly popular. Furthermore, this creates an individual family tree that looks great. Such a lush creation needs a lot of space to look right.
A large free wall in a central location in the room is particularly suitable for Wall décor. This creates a lively and very individual mural.
Wall tattoos for wall décor
For real individualists there is still the possibility to have wall tattoos made from your own pictures. The selection of design options is usually easy online. Wall tattoos from your own photos can be made in different sizes and, like all other wall tattoos, can be applied to the wall with a spatula.
Set up instead of hung up
Pictures don't necessarily have to be hung. They can also be beautifully draped standing up. In a single or collective frame on a small table or sideboard, they become a real eye-catcher.
If you want a slightly different look, you can decorate picture frames on narrow shelves on for the purpose of Wall décor. Shelf boards can do a lot more than just provide additional storage space.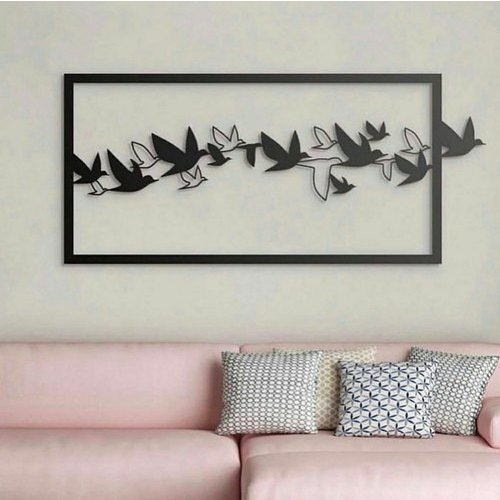 Similarly, they are also ideal as a decorative element in combination with framed pictures. Moreover, it becomes particularly individual when picture frames are selected in different sizes and formats.
Role of flat shelves
Very flat shelves are well suited for decorating with picture frames. They don't look too bulky and leave a lot of space so that the framed pictures themselves can appear accordingly. The shelf color can match the picture frame tone on tone, form a harmonious color spectrum or represent a contrast.
Imagery: images and sayings in combination
If you want to showcase the motif of the imagery in a particularly impressive way for Wall décor, you can combine pictures with lettering. In the area of ​​wall tattoos there are many beautiful sayings and wisdoms that we should keep in mind a little more often in everyday life.
A motto as a wall decoration in combination with a few particularly beautiful pictures can put a smile on your face every day and point out what really matters in life.
Wall décor with Photos of special events
Especially photos of special events, such as a wedding or a birth, in combination with a beautiful motto, are a very personal and impressive form of wall design. This decorative element is often common in the baby room.
It is also possible for Wall décor to have sayings designed according to your own ideas, for example from a wedding saying or the date of the wedding or the birth of a child.
But well-known sayings are also suitable, for example, to be decorated together with particularly beautiful photos from your last vacation. This not only keeps the memory of the most beautiful moments in life alive, the wall design also reminds you that the good things in life are what count.