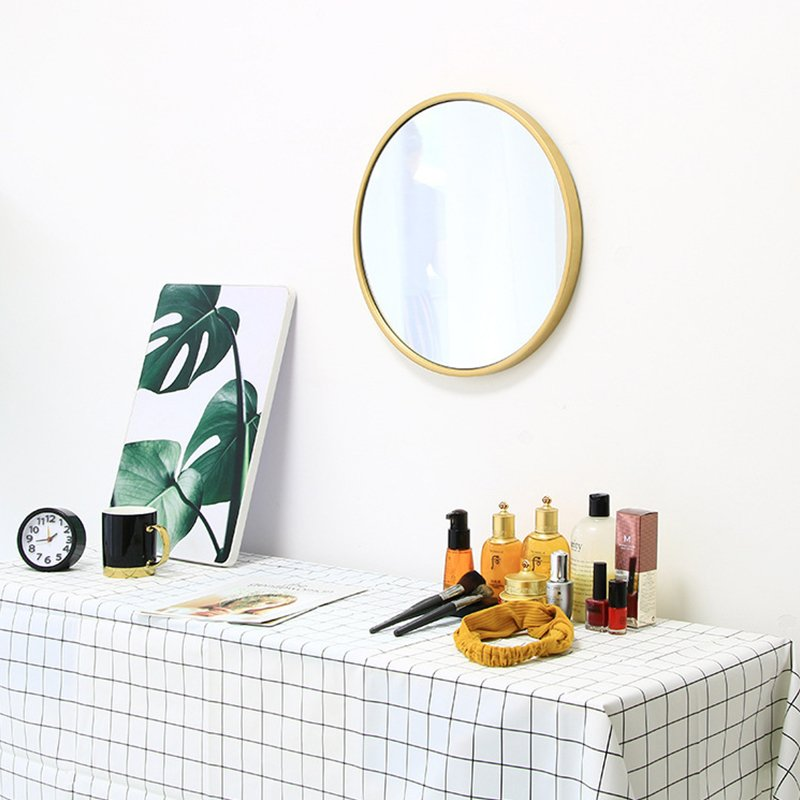 Here are 5 extremely simple decorative mirror on background wall ideas that are easy to do with mirrors so that the mirror becomes an aesthetic highlight for your room.
The mirror is an essential item in every family, helping the owner to prepare a clean appearance and dress politely before leaving the house. Besides, the mirror is also a versatile decoration. Using mirrors in many styles will make the room feel larger, brighter and visually interesting. Here are 5 ideas that you can refer to decorate your beautiful home with mirrors!
1. Hanging in the corner to work at home
Usually, when it comes to the position of the mirror, you will immediately think of the living room, bedroom, and bathroom. Sometimes, you should also break the gap a bit by hanging the mirror on the wall of the working corner at the office and family.
It will be an element of surprise in interior decoration. In this illustration, we have chosen decorative mirror on background wall with brass frame right above the small table. The position of the off-center mirror helps you not to stare at your face while working and gives this area a light and pretty look.
2. Turn mirrors into works of art
This is a very clever and ingenious idea. You can see a dense forest full of charm in the child's room. So, when a thin round mirror with a simple black frame is placed in the center, it will reflect the image of the opposite wall. Invisible, the mirror also becomes a work of art consistent with the theme of the room.
3. Decorative mirror on background wall
We all need a full-length mirror to look at our clothes before going to work or attending parties. Mounting a mirror right inside the bathroom door both makes the space seem larger, and creates the effect of natural light from the window for an airy feeling.
This combination is extremely convenient and it is not difficult to implement this idea. The decorative mirror on background wall is simple without fancy borders, easy to order on request with low cost.
4. Choose a semicircular mirror
What makes you feel that this room has a charm that is hard to take your eyes off? Is it from the large semicircular mirror on the wall? Perhaps all the elements from the neutral colors, light wood furniture and the beauty of the semi-circular mirror, below is the characteristic fringed accents of the style that make this room close, romantic and voluptuous.
5. Classic decorative mirror on background wall Collection
Decorating the walls with a collection of mirrors is an easy way to add interest and charm to a living space. Take a look at the modern color block bedroom with vintage sun-inspired decorative mirror on background wall, and you'll find it exudes a gentle charm.
Currently, bedrooms, especially in big cities, often have a rather modest area. Therefore, the bedroom wall mirror with minimalist design becomes the top trend. Yuki is the most popular design right now.
Nordic Mirror is a product manufactured by high technology. Not only has a beautiful design, but the mirror is also of outstanding quality and durability.
Bedroom wall mirror: Rainbow led
Rainbow led is an extremely unique and convenient bedroom wall mirror today. Not only is it a normal mirror design, but it is also combined with led lights with the idea of ​​​​the rainbow with natural light.
Mirrors help the room become brighter, so it is especially suitable for dimly lit rooms or corners where the mirror is somewhat hidden. In particular, the mirror will be a great assistant for women when applying makeup.
Peacock decorative mirror on background wall
The decorative mirror on background wall design you cannot ignore for the master bedroom is Peacock. This is a mirror design inspired by peacocks. The main mirror is round on the inside with the surrounding design like feathers radiating around.
Mirrors usually come in two main colors, yellow and white. Made of mirror material, Peacock has extremely good quality. It is anti-termite, anti-fouling, anti-oxidation, and anti-stain. Moreover, it provides long-lasting beauty.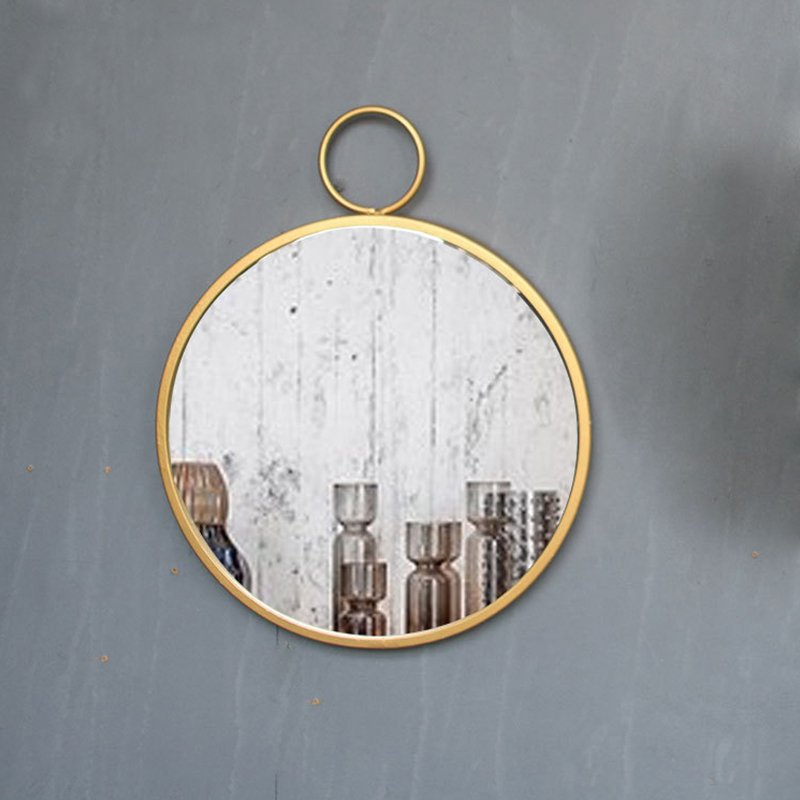 Notes in the process of decorating the bedroom wall mirror
Decorating a bedroom is not easy. In addition to choosing the right design, you need to pay attention to the following things to have the most satisfactory space.
Choose mirror size
The same design but the mirror will have many different sizes. Or each mirror position will be suitable for a separate size. Therefore, once you have chosen a suitable design, you need to choose the size for it.
With a modest bedroom space, it is advisable to choose a mirror of medium size and with a simple design. For the large bedroom, you can freely choose according to your preferences. However, you should not choose a size that is too small or it will make the bedroom feel emptier.
What is Decor?
Decor sounds strange, but its origin is very simple. Decor comes in many industries and fields, but the most popular is still furniture.
Decorative mirror on background wall is decoration for space
Interior decor or interior decoration is the selection, combination, installation and arrangement of furniture, items as well as decorative items. Decorative mirror on background wall create an overall, harmonious space towards a unified style or theme. Decorative items, interior items are reasonably decorated to ensure functional use, while bringing beauty, aesthetics and art to the space.
For the above purpose, decor is both an easy and a difficult job. Like architectural or interior design, decor for each room needs to be studied, invested time and effort. Each different style will have a corresponding decor direction to create the most harmonious and overall beauty for the space.
Benefits of using home decor
Decor is becoming more and more popular in interior decoration why? If you are confident in your aesthetic eyes and ability to arrange furniture and color combinations, you can decorate your house by yourself according to your preferences and personality. On the contrary, if you are not really confident with this ability, look to experts for advice and detailed design. In this way, you will have the living space of your dreams, awakening joy and excitement every day.